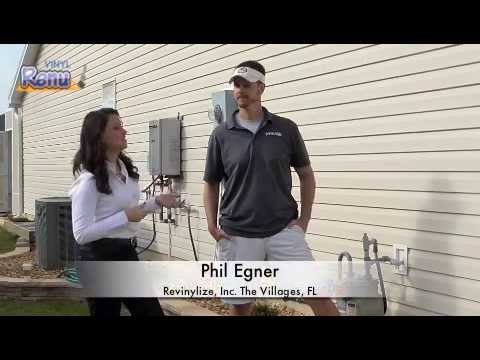 Watch the short video to hear experts response to "Should I paint my vinyl siding?
Why painting vinyl siding is not a good idea. Paint versus Vinyl Renu – The Showdown
Compare Vinyl Renu versus Paint
| Vinyl Renu | Paint |
| --- | --- |
| Brings back the color and wood grain texture | Bring back color but covers texture |
| UV Blocking Technology keeps color vibrant upto 10 years | Will fade again in 2-3 years |
| Mold/Mildew Blocking Technology - protects from mold/mildew up to 10 years | Does not resist mold/mildew |
| Can spray to protect gutters | Need to trim around gutters |
| Can spray to protect trim and moldings | Need to cut in around trim and moldings |
| Can spray on metal utiliity boxes, etc. | Need to cut in around metal objects |
| Can spray to protect stones and pavers around home | Can't apply to a variety of surfaces around your home |
Paint does not boast the same qualities, making Vinyl Renu better than paint for bringing back the color of faded vinyl siding.
LOWER COST:
Vinyl Renu has a lower project and lifetime cost. Paint requires multiple applications over the next 10 years to keep the color beautiful.
BETTER RESULTS:
Paint on plastic will probably crack, chip peel AND it will FADE. Vinyl Renu wont. Guaranteed!
LONGER LASTING BEAUTY:
Paint looses color every year. Vinyl Renu's UV blocking technology protects the color and luster of your shutters for up to 10 years.
LESS OF YOUR TIME:
With Vinyl Renu, the afternoon is yours to spend with your family. With paint you need a whole day. Paint requires taking the shutters down, taping, clean-up, old clothes and a full day.
We have all been taught than when something needs to be refreshed to paint it. So should you paint vinyl siding? No. Paint vinyl siding with Vinyl Renu because it is lower cost, easier to use and longer lasting. The quick 10 second video shows how easy it is to paint your faded vinyl shutters with Vinyl Renu. You can wipe it on for a quick fix or you can apply with a quality paint brush for the longest lasting beauty and protection.
Please view the video below for detailed instructions how to paint your vinyl siding with Vinyl Renu. You will be thrilled with the results.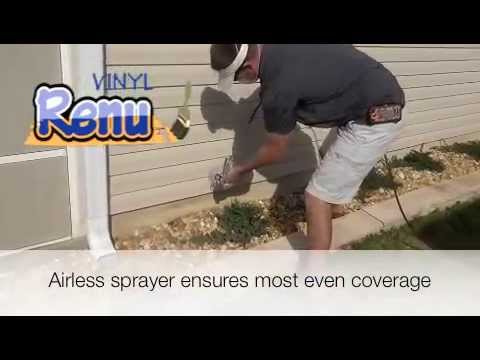 *See "Guarantee" for details.
Some Frequently Asked Questions about Painting Vinyl Siding and Vinyl Renu
Why is it better to apply Vinyl Renu™ to my existing vinyl or aluminum siding than to replace them?
Your initial and long-term costs will be several times lower than replacing. Your vinyl siding is probably in good shape and is simply faded and oxidized. Replacement vinyl siding will weather and fade in just a few years and you may be facing the same challenge as you are now. With Vinyl Renu™ and Vinyl Renu™ Cleaner you can clean, restore and protect your faded and oxidized vinyl and aluminum siding as well as many other weathered surfaces. Since Vinyl Renu™ uses the latest technology from the aerospace, automotive and marine markets as raw materials, the protective shield it forms will ensure that you will have new looking siding for years. In addition, Vinyl Renu™ will help resist the growth of most mold, mildew and algae for years.
Why not paint faded vinyl siding?

Paint will give your home painted look and you may lose the wood grain appearance of your vinyl siding. Also, painting requires a significant amount of prep work and clean up. Finally, even the most expensive paint will begin fading in a couple of years.. Since Vinyl Renu™ is clear you can eliminate nearly all of the prep work and clean-up mess. Vinyl Renu™ dries clear and brings back the beauty of your vinyl siding and many other weathered outdoor surfaces like vinyl shutters, painted siding, aluminum siding, cement board, shutters, garage doors and front doors, patio furniture, metal roofing and much more.
How long will Vinyl Renu™ last?

You will have beautiful vinyl siding for up to a decade and in some cases longer. Longevity depends on proper prep work, applying the product properly and with the recommended coverage and your local environment.. In most areas of the US, Vinyl Renu™ will last close to decade before needing a second application and possibly more. Vinyl Renu has been used on millions of square feet of vinyl siding, roofing, stucco and many other surfaces with thousands of thrilled customers.